This phase goes pretty quick initially if you have a library of elements that can be quickly applied or better yet drawings that you can easily modify or rob elements from to produce these new designs. This is the power of CAD in it's most obvious form.

At right you see a close-up view of a section of the project drawing. Here I've drawn basically a shell of a bookcase over the top of the Constraint, Contents, and Framework. This is really just a rough sketch at this point. If you remember, these elements together make up what we would now consider the "Second Constraint".

Many From One
Because our requirements were so loosely defined, we are free to experiment with several different styles. This is actually a bad thing, there are infinite styles to choose from and we need to focus our selection to a few acceptable ones. For the sake of convenience, we will limit our focus to the Early American, Mission, and Shaker styles.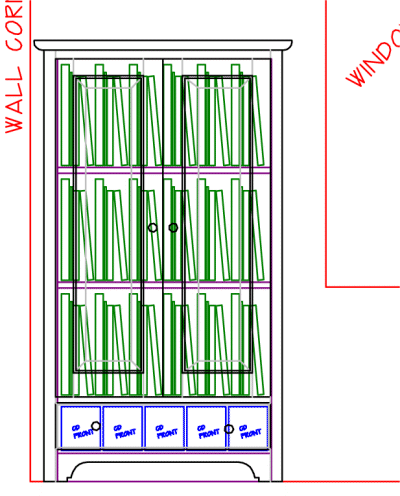 We will also consider it an option to reconfigure any of our previously drawn core elements except for the Constraint if we need or want to. For the sake of expediency, I've drawn an archetype of each of our three styles over the top of copies of our other elements. These new elements are of course on a separate (new) layer I'll call "Style".

In this view I've combined the three styles into a single illustration in order to more clearly see what we are after here. To see these views in the drawing the other layers would be turned off in order to more clearly visualize the style aspects. After you have successfully "wrapped" the Second Constraint, it is easier to work on the details of the style with all other layers turned off. We probably don't want to get too wrapped up in minute details as of yet, just fundamental details we need to make a final style selection.