Description
Over the years I have found very few tape measures that I have liked. Of course I need them and when the one you like gets worn out, misplaced, or walks away, quite often, the particular model I like is no longer available. Because I am not usually all that fond of the tape measures I end up with, I am always on the lookout for better ones. The FastCap ProCarpenter tape measure is one of these.

FastCap is a relative newcomer to the tape measure market. They offer four different reading styles that come in 16' and 25' and lengths. The tapes have some sort of black rubber moulding on the outside and each of the four versions is color coded to tell them apart easily. The four reading styles are (PS) standard inch, (PSS-R) standard inch & reverse, (PS-SP) standard inch / story pole, and (PMS) standard inch / metric. There is also a FlatBack measuring tape version. In addition to the tape itself, each model includes a largish writing surface on one side, a pencil sharpener, and a hold button in addition to the common tape lock slide.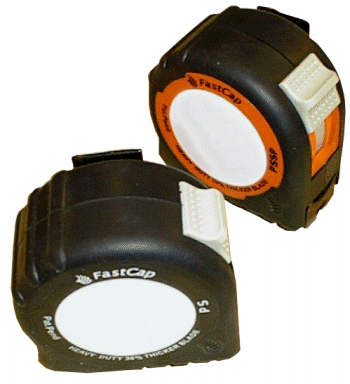 In Use
The PS version reads pretty much like any standard tape measure, it's finest marking is 1/16 of an inch with markings on both the left and right sides of the tape. The PS-SP version has the same 1/16 markings but the fractions are called out as well. The markings on this tape are not carried across the width. On the other side is a blank section that can be used as a story pole. As you may or may not be aware, most tapes cannot be marked on very well and on those that can the marks compete with the normal printed measurements on the tape. The PS-SP makes a very good story pole because it is not cluttered and is easily marked; naturally it is much more portable than a story pole too.

The FlatBack tape is kind of unusual. Ordinarily, a tape like this would not be useful but it may be successful in filling a niche in the woodworking world. The benefit of the flat tape is that since the blade isn't curved, it is more accurate to measure or transfer a mark from the edge markings on the blade. Another advantage is that the tape can be used to measure curved or circular objects. Unlike other tapes, the hook on the FlatBack tape is fixed thus it would not be used to measure inside dimensions.