In Use
Once the unit is assembled, aligned, and it's crosscut fence and extension table installed, it is ready for use. At almost 8" the table is not as wide as a typical saw extension wing but at 40" it is significantly deeper. In effect, there really isn't an issue with loss of support. Underneath the table is a lock that will allow the table to be fixed with it's edge even with the infeed edge of the main saw table or three other positions. This will come in handy when loading the unit or when performing rip operations.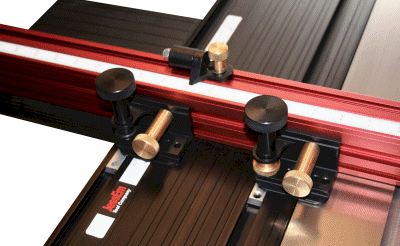 The sliding action is quite smooth because the table is always in contact with several large bearings. This is a small slider not really intended to support heavy objects by itself so some additional side support will be needed when cross cutting big plywood sections or other heavy objects. Within the sliding table are stops that prevent the operator from over traveling the table. JessEm thoughtfully put rubber bumpers on these, many other units just crash into the stops.

On sliding tables such as this, it is very important to be able to remove and replace the crosscut fence quickly. This fence will come off in about 7 seconds and back on in about 10, there are no loose parts to contend with either. Unfortunately, there is no return to a calibrated 90 degrees on the mid-mount position. These times above sound low and they are lower than many other sliders. They could be reduced a bit more, these times translate directly into operator convenience.