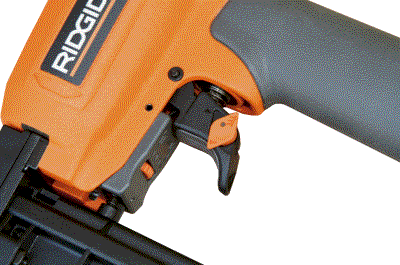 Trigger selector show rotated half-way between settings, Normally it sits flush with the assembly.
Air guns have triggers that fire in "bump", single fire, or both modes. This unit has a mode selectable trigger mechanism. If you were using this tool for light construction, the bump fire mode would probably be quite useful because it is fast. This could be used on more exacting work as well but in this mode the risk of a double -fire is present which has at least the potential for causing a blemish in the work. Double -firing happens when the gun bounces after being fired and the user still has the trigger pressed when he forces the gun back down. It's an operator problem, not a gun problem. I've yet to encounter a double fire with this gun. First they don't happen too often and some guns may be more susceptible to it than others. Mainly, I'm relating why one may want to use the single fire mode.

I am a firm believer in using safety glasses when operating air guns. It doesn't happen all the time but sometime a small piece of wood or piece of nail can come flying out posing a risk to those in the vicinity. To that end, Ridgid includes a very good looking pair of safety glasses with the tool and I highly recommend using them.

The R150FSA is an oil-less design. This means it is a little easier to maintain,no need to put oil down the air inlet before using it. It also means it will not contaminate the work surface. The R150FSA also has a lockout feature that will prevent the gun from firing when the magazine is empty.