Description
The Milescraft Model 1204 Spirocrafter is a rather unique template for creating "Rose" like patterns for woodworking. The device is primarily intended to be used with a router and would be used for either surface relief cuts, pierced or cut-out work, or a combination of the two.

The kit comes with a template holder that must be snapped together, two pattern templates, two guide bushings for "normal" routers, a "normal" router sub-base adapter, a centering cone, two guide bushings for a Milescraft Dremel base, a pattern tracing tool and two instruction books. Of these items, most users will only need the pattern holder, the templates, and instructions, the other items will not be required.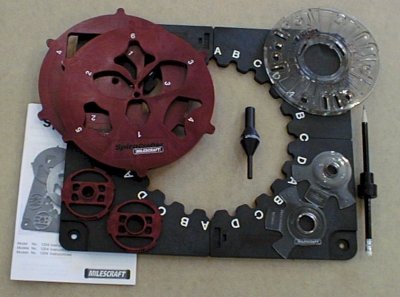 The Milescraft router sub-base is required to use the matching guide bushings. The base did not happen to fit any of the routers I had but the guide bushing diameter is not absolutely critical and I was able to use the OEM bushings with the routers what I have.

The concept behind the Spirocrafter is actually quite simple, it is nothing more than a pattern you follow with a cutting tool. The template is rotated for each cut until the desired pattern has been cut. The template can be rotated in any of 24 different positions in the template holder. The templates themselves have a total of 10 separate outlines than can be used in whole or in part and by either following the edge or by cutting the the entire field. Combine this with different bits and guide bushing diameters and the number of distinct patterns that can be made is fairly large.

The patterns themselves run about 3 to 7 inches or so in diameter. This sounds small but it actually appears to be about the right proportion quite often. There are times when a larger pattern would be desired, maybe 50% larger.