What can I do with a machine like this ?
First, I would like to point out a very important detail, note that the title of the section isn't "what can the machine do". The tool doesn't do anything on it's own. It may cut very complex patterns but it doesn't come up with the design, select the stock, prep the stock, mount the stock, sand or perform any additional post operations nor does it apply any finish to the material.

Of course I'm stating the obvious here but I say it to remind you that in this critical aspect, a CNC router is like any other tool, it doesn't "create" anything on it's own.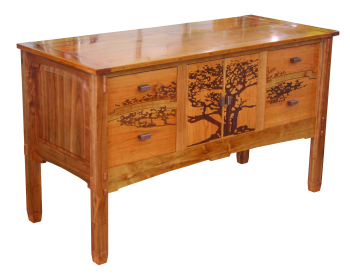 More so than other typical shop tools, this is a "game-changer" tool. By that I mean that this tool can open up a whole realm of possibilities that could have been out of reach previously. It's not that one could not accomplish the same task through the use of a different tool or technique, it's that it will allow you to accomplish (dare I say "master") the task in far shorter order.

Obviously, if something is easier to accomplish, it's much more likely to get done. Effects such as carvings, inlays, curved cut-outs & profiles, and many more complex or tedious operations can be performed much more easily with a CNC router. If it's easier to do, you are likely to incorporate it into your projects more often, it's just that simple.

So what can you do with a machine like this? There is no simple answer because your imagination is the only limitation.