LittleRat Parallel Jig
Back to the LittleRat Index Page
This jig is a simple parallel clamping device. It is attached to the sliding carriage using six 8mm x 1.25 bolts. Flat head types were used in the center part so as not to interfere with the stock. At the left end can be seen a short fence made of a section of plywood.
Imbedded into the base are three 3/8-16 T-nuts. These accept one of two 3/8-16 threaded rods. The rods allow the clamp bar to secure stock to the base section. I used two 3/8" levered "speed nuts" to force the clamp bar into position and keep it tight. These have small buttons on the body that when depressed, disengage the threads and allows them to move freely across the threaded rod. When the buttons are released, they act as normal levered nuts. In truth, 3/8" is a little overkill for this jig but I had these speed nuts laying around and this is a very good use for them. I shortened the lever on them just a bit so that I could get full rotation even if they happen to be underneath the router baseplate.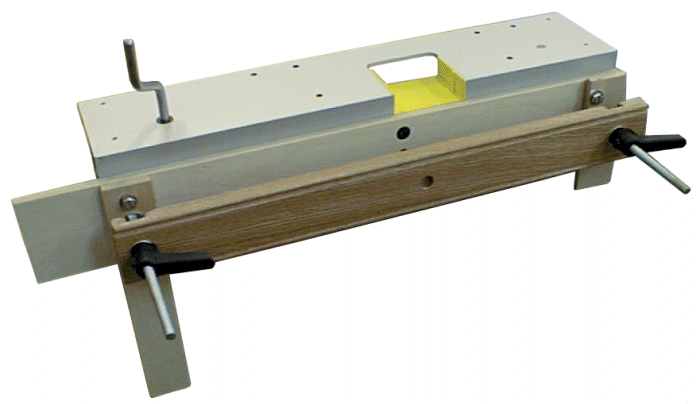 The router base has been removed from the jig for clarity.